Suncrest Cavaliers
Presents:
"Bearer of the Overflowing Joy of God"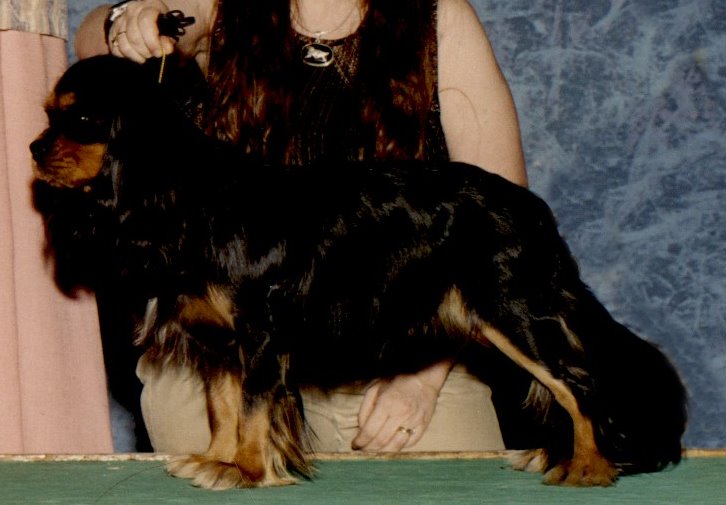 Cotillion Tucson By Nite - aka. Kody
Kody has found a new home with a very special family in northern Illinois.
Kody was placed in a new home after being diagnosed with cataracts. The cataracts were diagnosed when Kody was about one year old.
Greatest Strength - All Around Excellence - Looks, Movement, Personality
AKC and CKCSC, USA Registered
Pedigree of COTILLION TUCSON BY NITE

Date of Birth: March 30, 2003

PARENTS
GRANDPARENTS
G. GRANDPARENTS
G.G. GRANDPARENTS
SIRE:

Tomnee Phoenix (T)

Ch Tomnee Doc

Holiday (T)

Ch Fair Oaks Fairfield

Posiedon (B)

Amantra Coastguard

of Fairfield (B)

FairOaks Cymbal (B)

Tomnee See A

Seaprint (T)

Ch & Can Ch Werrington

Buoyancy of Rattlebridge (T)

Maibee A Fingerprint (T)

Tomnee Summer Song (B)
Charterwood Pure

Copy (B)

Charterwood Gamble (T)

Charterwood Pollyanne (B)
Charterwood Winifred (B)

Maibee The Minstral (B)

Charterwood Winsome (B)

DAM:

Brookhaven

Play It Again (B/T)

Ch Falling Springs

Gemstone

at Brookhaven (R)

Ch Woodstock

Got The Hots

At Falling Springs (R)

Eng Ch Harana Too

Darn Hot (R)

Sorata Christina (R)

Falling Springs

Tally Ho (R)

Ch Falling Springs

Helmsman (B)

Falling Springs Sabrina (R)
Ch Granasil Magic

Moments (B/T)

Granasil Black Jack (B/T)

Eng Ch Harana Too

Darn Hot (R)

Granasil Shining

Comet (B/T)

Granasil Iron Lady (B/T)

Eng Ch Rheinvelt Ringold

Von Salador (B/T)

Granasil Milli Vanilli (B/T)
Kody's Breeder and owner of both his Sire and Dam is Cotillion Cavaliers - Patricia Brown. (No website yet.)
Kody's personality is kind of like Ode from the Garfield and Ode comics. He is very happy go lucky. He has the heart of a big Rottwieller packed into a little body and I often call him "mama's little Rottie bear cub". In soooo many ways he reminds me of my Rottwieller that I had for 8 years that passed away just before I got my first cavalier Spencer. He even gives the traditional big dog sloppy lick your face off kisses. He is fascinated with his tail. He looks at his tail like "How did that get there and where did it come from?" and them he will go round and round trying to catch it. Kody doesn't just wag his tail when he is happy, he wags his WHOLE body. He loves to cuddle and will do anything for belly rubs. He is also a major food hound. He always thinks he is just starving to death! He would happily weigh as much as a real Rottie if he were allowed to. His breeder told me that after I picked up Kody her house suddenly got very quite and she had not realized that Kody was the one making ALL the noise. He was then and still is the loud mouth of the group. He barks LOUDLY for whatever he wants. When I am fixing their supper, Kody will sit there and bark a very demanding bark nonstop like he is telling me to HURRY because he is just STARVING. When he wants out, he goes to the door and barks as loud as he can nonstop until he is let out. In the morning, once he decides it is time for me to be up, he will bark his head off until I get up. He barks to tell me that he just KNOWS I am forgetting to give him his breakfast. He barks from the time my husband comes in the door after work, clear through while he is changing clothes and until my husband comes and gives him the belly rubs that he has decided my husband owes him the SECOND he comes in the door. Kody is extremely vocal, but it is soooo cute. It is just one more way that he seems like a big Rottie dog personality in a little dog body. Kody also loves to tease his brothers into chasing him around and around the house. He will deliberately start a fight just to get them (especially Randy) to chase him. He often does this by dropping a toy right in his brother's face then just as his brother goes to get it Kody will grab it up and take off running.
More pictures of Kody can be found on Randys website. You may visit it at Randy's Room.