Suncrest Cavaliers
Presents:
"Bearer of the Calming Peace of God"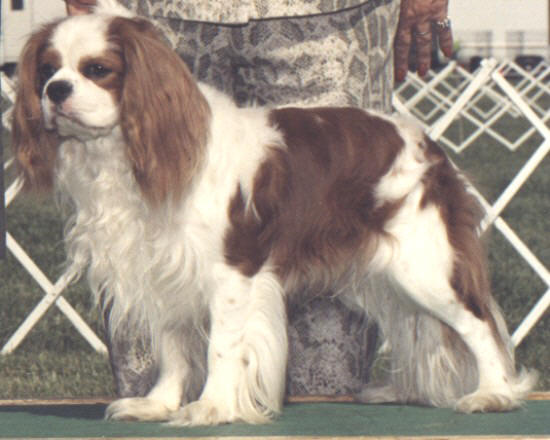 CH Countrymanor George W. - aka. Spencer

(What is CHIC?) (Spencer's CHIC Page)
Greatest Strength - Moves Like A Dream
AKC and CKCSC, USA Registered
Spencer has found a wonderful new home just on the other side of town from us, where he will have an opportunity to make his dreams come true!
Spencer has always desired to share his gifts of comfort and peace with as many people kids and animals as possible. His new mommy and daddy are both in the medical health care field and plan to give Spencer the opportunity to help wherever he may be able to be of benefit. - updated 1/29/08
Spencer is now OVER AGE 5 AND HEART CLEAR!!!
Spencer has earned his AKC Championship. He received 19 points including a 4 point major.
Spencer has a very laid back personality like a sweet little baby boy so he is nicknamed "mama's little bebe". He loves his mommy and cries pitifully like his heart is broken whenever I am out of his sight too long or he thinks I am about to leave the house without him. His cry sounds like "raa raa", as if he is trying to say mama. Spencer is the most outgoing of my three and will give kisses to absolutely anyone who gets their face close enough. Spencer loves to play kissy face like it is a game. He usually prefers to kiss my nose because he knows it will make me laugh. I think it is the reaction he is after. He especially loves to play kissy face with a child while they laugh and giggle and roll around on the floor. Spencer is also the only one who likes to sit in my lap and watch the computer. He appears to know and understand when I am working with my website or reading email from cavalier people and he wants to be a part of it.
More pictures of Spencer including his wins in the show ring can be found on Randy's website. You may visit it at Randy's Room. If you wish to go directly to the page of Spencer's show pictures, it is at Spencer's Show Pictures.
Pedigree of CH COUNTRYMANOR GEORGE W

Date of Birth: January 4, 2001

PARENTS
GRANDPARENTS
G. GRANDPARENTS
G.G. GRANDPARENTS

SIRE:

Can. & AKC CH Sheeba Victor Victoria (B)

CH Shagbark Chief Inspector (B)

Shagbark Marshall (B)

CKCSC CH Ravenrush Tartan
CKCSC CH Shagbark Dallas
CKCSC CH Crossbow Martha's

Choice of Shagbark (B)

CKCSC CH Ravenrush Tartan
Kindrum Savanna Of Crossbow
CH Telvara Angelina (B)

Eng. CH Telvara Karbon Kopy (B)

Aust. CH Telvara Krysterson
Telvara Simply Sarah
Telvara Kandy Kisses (B)

Telvara D'Artagnan
CH Telvara Krystal Kascade
DAM:

CH Countrymanor Miss Showbiz (B)

CKCSC & AKC CH

Telvara Top-Kopy (B)

Eng. CH Telvara Karbon Kopy (B)

Aust. CH Telvara Krysterson
Telvara Simply Sarah
Telvara Kandice Marie (B)

Eng. CH Telvara Top Hat
Telvara Kandy Kisses
Can. & AKC CH Sheeba The Show

Must Go On (B)

CKCSC & AKC CH Telvara Top-Kopy (B)

Eng. CH Telvara Karbon Kopy

Telvara Kandice Marie
CH Sheeba Tumbelina (B)

CH Telvara Mr Sandman
Telvara Coco Chanel

Championships are AKC unless otherwise noted.

Spencer's Breeder and owner of both his Sire and Dam is Countrymanor Cavaliers